Music for Robots od MF Robots a The Temptations s novým albem @ GRUNDFUNK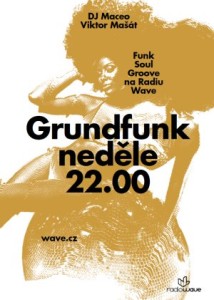 RADIO WAVE – Digitální stanice Českého rozhlasu pro mladé posluchače. Vysíláme v DAB+, DVB-T, kabelové televizi, na satelitu, v IPTV a na internetu.

Dočkali jsme se debutové desky Music for Robots od MF Robots, představili multiinstrumentalistu, zpěváka a producenta Nate Williamse, který je již rok součástí koncertní sestavy Jamiroquai, vydal před dvěma týdny nové EP. Pravidelná rubrika Groove Window dnes představuje kapelu Sal's Greenhouse a zahráli také The Temptations, kteří v pátek vydali po osmi letech nové album All The Time.
Photo Galleries
| | | |
| --- | --- | --- |
| | 25-Čvc-2012 03:15, OLYMPUS IMAGING CORP. VG160,X990,D745 , 3.1, 6.4mm, 0.1 sec, ISO 1600 | 25-Čvc-2012 03:15, OLYMPUS IMAGING CORP. VG160,X990,D745 , 3.1, 6.4mm, 0.1 sec, ISO 1600 |
| 25-Čvc-2012 03:54, OLYMPUS IMAGING CORP. VG160,X990,D745 , 3.4, 8.3mm, 0.077 sec, ISO 1600 | 25-Čvc-2012 03:54, OLYMPUS IMAGING CORP. VG160,X990,D745 , 2.9, 5.5mm, 0.067 sec, ISO 1600 | 25-Čvc-2012 03:55, OLYMPUS IMAGING CORP. VG160,X990,D745 , 2.8, 4.7mm, 0.067 sec, ISO 1600 |