GRUNDFUNK presents Rhodes to Forever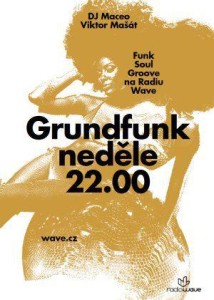 RADIO WAVE – Digitální stanice Českého rozhlasu pro mladé posluchače. Vysíláme v DAB+, DVB-T, kabelové televizi, na satelitu, v IPTV a na internetu.

The Steve McQueens​ s novou deskou TERRAЯIUM, kompilace Two Beats One Soul, v rubrice Groove Window The Kennedy Administration a nové EP Rhodes to Forever k poctě Rhodes pianu. To a mnohem víc v dnešním vysílání.
Photo Galleries
| | | |
| --- | --- | --- |
| | 25-Čvc-2012 03:15, OLYMPUS IMAGING CORP. VG160,X990,D745 , 3.1, 6.4mm, 0.1 sec, ISO 1600 | 25-Čvc-2012 03:15, OLYMPUS IMAGING CORP. VG160,X990,D745 , 3.1, 6.4mm, 0.1 sec, ISO 1600 |
| 25-Čvc-2012 03:54, OLYMPUS IMAGING CORP. VG160,X990,D745 , 3.4, 8.3mm, 0.077 sec, ISO 1600 | 25-Čvc-2012 03:54, OLYMPUS IMAGING CORP. VG160,X990,D745 , 2.9, 5.5mm, 0.067 sec, ISO 1600 | 25-Čvc-2012 03:55, OLYMPUS IMAGING CORP. VG160,X990,D745 , 2.8, 4.7mm, 0.067 sec, ISO 1600 |