GRUNDFUNK presents John Morales M+M Mixes vol.4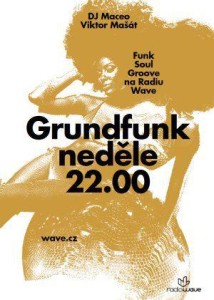 RADIO WAVE – Digitální stanice Českého rozhlasu pro mladé posluchače. Vysíláme v DAB+, DVB-T, kabelové televizi, na satelitu, v IPTV a na internetu.

V playlistu dnešního vysílání došlo na novinky i legendy funksoulového žánru, jako například Aisling Iris, Gizelle Smith, Average White Band nebo Brian Culbertson. Pravidelná rubrika Groove Window představila projekt Beatchild & The Slakadeliqs prostřednictvím právě vydané druhé studiové desky Heavy Rockin' Steady a došlo také na novou kompilaci The M+M Mixes Vol. 4 od Johna Moralese, kterou vydal label BBE Music koncem roku 2017. Pěkný funky poslech! 
Photo Galleries
| | | |
| --- | --- | --- |
| | 25-Čvc-2012 03:15, OLYMPUS IMAGING CORP. VG160,X990,D745 , 3.1, 6.4mm, 0.1 sec, ISO 1600 | 25-Čvc-2012 03:15, OLYMPUS IMAGING CORP. VG160,X990,D745 , 3.1, 6.4mm, 0.1 sec, ISO 1600 |
| 25-Čvc-2012 03:54, OLYMPUS IMAGING CORP. VG160,X990,D745 , 3.4, 8.3mm, 0.077 sec, ISO 1600 | 25-Čvc-2012 03:54, OLYMPUS IMAGING CORP. VG160,X990,D745 , 2.9, 5.5mm, 0.067 sec, ISO 1600 | 25-Čvc-2012 03:55, OLYMPUS IMAGING CORP. VG160,X990,D745 , 2.8, 4.7mm, 0.067 sec, ISO 1600 |