GRUNDFUNK presents BODY HEAT GANG BAND & STEVIE WONDER live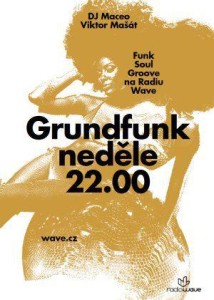 RADIO WAVE – Digitální stanice Českého rozhlasu pro mladé posluchače. Vysíláme v DAB+, DVB-T, kabelové televizi, na satelitu, v IPTV a na internetu.

Ve vysílání jsme připomněli úspěch skupiny J.A.R. na letošních cenách Anděl, představili nové singly od THE TEMPTATIONS nebo australských THE BAMBOOS a náš stroj času vás vzal pomocí čtyř ukázek do legendárních Teddington Studios v Londýně, kde se roku 1995 odehrál intimní koncert Stevieho Wondera pro 200 fanoušků, který byl zaznamenán na filmový i magnetický pás.
Photo Galleries
| | | |
| --- | --- | --- |
| | 25-Čvc-2012 03:15, OLYMPUS IMAGING CORP. VG160,X990,D745 , 3.1, 6.4mm, 0.1 sec, ISO 1600 | 25-Čvc-2012 03:15, OLYMPUS IMAGING CORP. VG160,X990,D745 , 3.1, 6.4mm, 0.1 sec, ISO 1600 |
| 25-Čvc-2012 03:54, OLYMPUS IMAGING CORP. VG160,X990,D745 , 3.4, 8.3mm, 0.077 sec, ISO 1600 | 25-Čvc-2012 03:54, OLYMPUS IMAGING CORP. VG160,X990,D745 , 2.9, 5.5mm, 0.067 sec, ISO 1600 | 25-Čvc-2012 03:55, OLYMPUS IMAGING CORP. VG160,X990,D745 , 2.8, 4.7mm, 0.067 sec, ISO 1600 |